Most Australians want and expect to have children.
But many are not aware of the range of modifiable lifestyle factors that affect male and female fertility.
As a health or education professional, you can help by sharing evidence-based information on optimising fertility and pre-conception health.
View our resources to help you start conversations with your clients and patients about fertility, pregnancy and having a healthy baby.
Your Fertility is brought to you by the Fertility Coalition: Victorian Assisted Reproductive Treatment Authority, Andrology Australia, Jean Hailes Research Unit and The Robinson Research Institute.
Education resources and professional development opportunities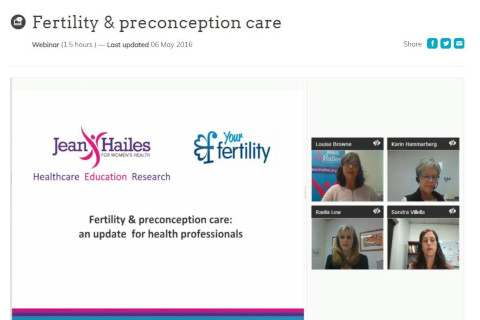 Join Jean Hailes for Women's Health in a free webinar on fertility and preconception health. This opportunity is accredited with 3 category 2 CPD points (RACGP QI&CPD Program).
The Jean Hailes ALM on fertility, infertility and preconception care was developed in collaboration with VARTA. The 6 hour module aims to improve health professionals' knowledge and understanding of fertility, infertility and preconception care (PCC). The module provides an overview of the causes of infertility, optimisation of natural fertility and recognition of indicators for specialist referral.
These units of work focusing on fertility, donor conception and assisted reproductive treatment (ART) were developed by Family Planning Victoria in consultation with the Victorian Assisted Reproductive Treatment Authority (VARTA) and Your Fertility. Revised in 2018, they are best taught as a part of a comprehensive sexuality education program for year levels three to ten.